| | | |
| --- | --- | --- |
| Christmas Light Bulbs Cookies | | |
Wednesday, 23 November 2011 17:00
Kathia Castro here again form Pink Little Cake with another tutorial for The Cookie Cutter Company. I love making light bulb cookies. They are big and you can play with colors as much as you want. For these cookies I wanted to make something a little bit different using purple and green colors as a base. I also added some details to make the cookies pop and look extra cute.
To make these Bulb cookie designs you will need
Christmas green, light green, purple, lavender, red, white, and black royal icing (stiff for pipping and thin for flooding the cookies)
Pastry bags, couplers and tips #1,#2 and #10 round tip

Toothpicks

Silver Dragees

Food Writers
Food Silver Glaze (you can find it at most craft stores or online)
Squeeze bottles
Pearl Luster dust (optional)
Fondant Holly leaves
Sixles
Using tip #10 cut the hole in the center of the bulb "head" and then bake the cookies.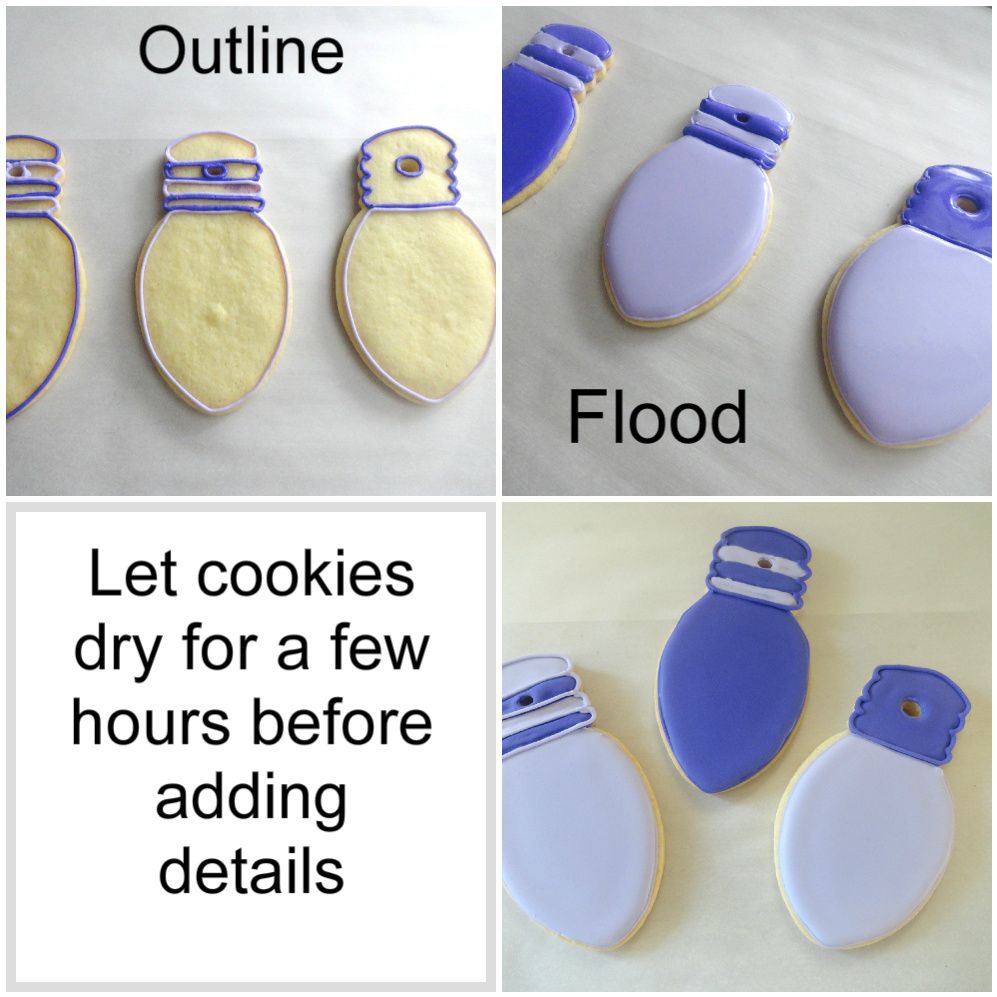 After baking, outline, flood, and let the cookies dry for a few hours before adding details.
Making the Snow Flake Lavender cookie
When your cookie is completely dry, using white royal icing and a piping bag with tip #1 draw the snow flakes.You can make them in diferent sizes to add dimention to the cookie.
Making the Lavander and Purple cookies with petals
This is an easy cookie design and you do not need a template for it. Just hand draw the petals adding as many petals as you want.
Outline and flood the petals using tip #2. Then attach degees with royal icing and add the stitching detail using tip #1. Let the cookie details dry for a couple of hours before painting them with the silver glaze.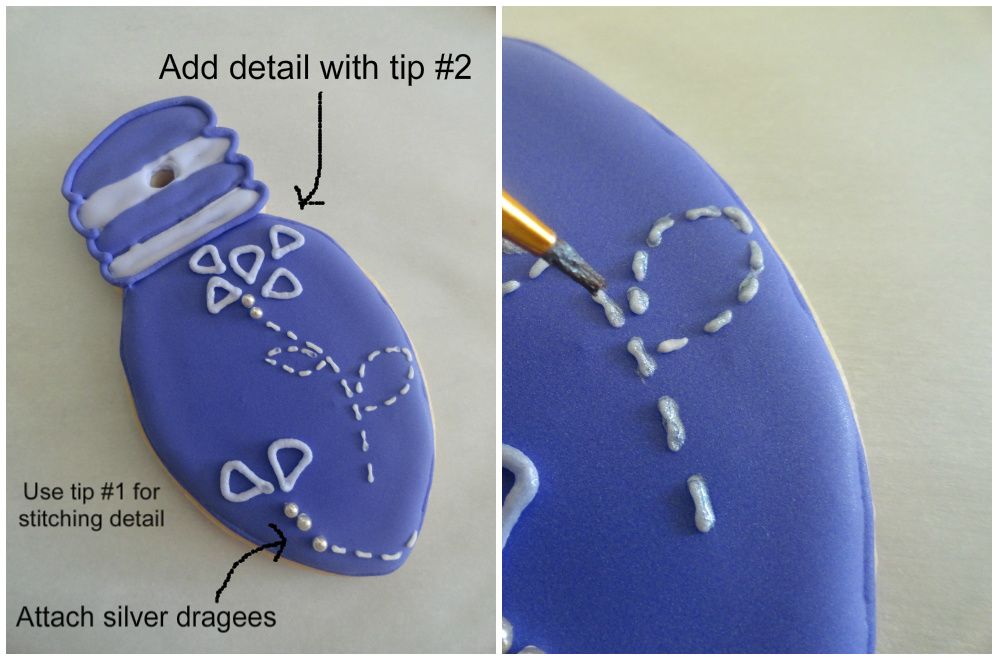 Add detail with tip #2. Use tip #1 for stitching detail. The attach silver dragees.
For these cookies I wanted to use a more traditional Christmas color, green. I also wanted to incorporate winter details to bring them to life. Start by outlining and flooding the cookies.
Let the cookies dry overnight.
When the cookies are completely dry, cover the bulb with a paper towel.
Now, hold the can of pearl luster spray a little away from the cookie and give them a light mist.
It dries very quicky, but I would reccomend you to leave the cookies untouched for a few minutes.
Making the Snowman Cookie
With stiff white royal icing and tip #10 make body and head of the snowman.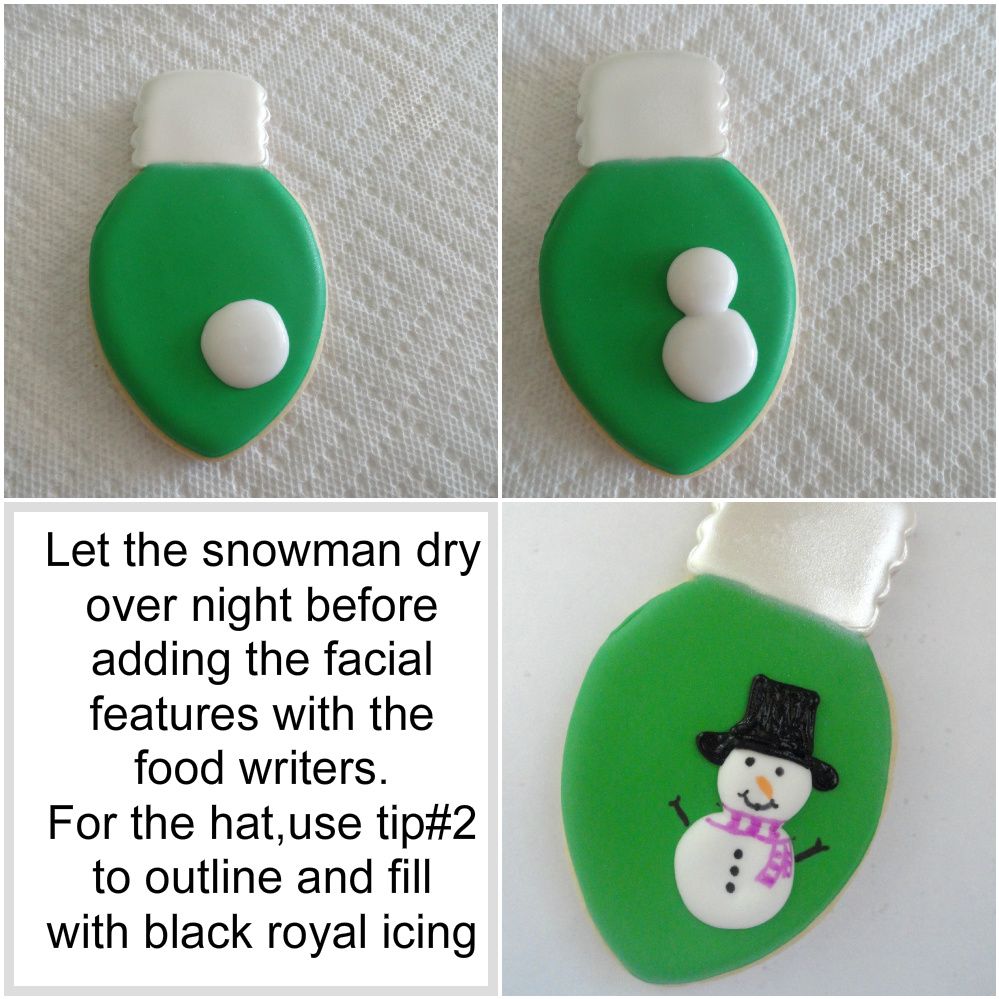 Let the snowman dry over night before adding the facial features with the food writers. For the hat, use tip #2 to outline and fill with black royal icing. Then Attach Holly leaves and sixlets with a dab of royal icing.
Chritsmas Tree and Snow Cookie
Outline and flood the tree and the "snow", add red "lights" with red royal icing using tip #1.
Attach Holly leaves and "berries".
And this last cookie looks just perfect with the Holly leaves and little "berries".
Are you ready for your holiday baking and cookie decorating?
I hope so, and I hope you enjoy!
Last Updated on Wednesday, 30 November 2011 11:54